Our Facility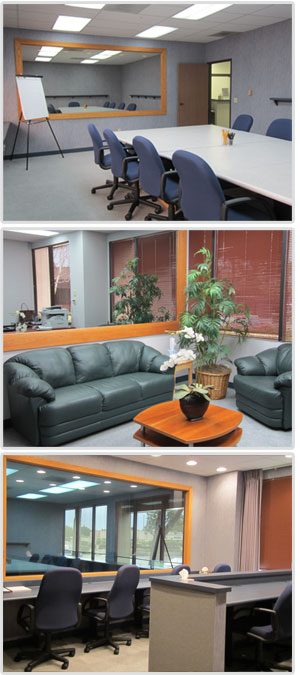 Market Research Ventura County is a secondary market facility nestled in the beautiful coastal community of Camarillo, California.  Ventura County is sometimes called "Kansas by the Sea" because of its solid hard working residents, deep agricultural roots, strong family values, and an educated workforce.   The big difference -- the average temperature in Ventura County is 70° all year around.

MRVC's facility is fully equipped with a conference style focus suite(19x23) and a living room/creative suite (16x15), both with comfortable client viewing lounges (capacity 15 & 10).  Our lobby is comfortable and welcoming for participants.  MRVC's host staff is trained to set a warm and inviting atmosphere the moment participants enter our lobby.  Participants are encouraged to relax and brush the stress of the day away prior to joining their focus group.  We want our participants to be fresh, relaxed, and ready to transition easily into their structured discussion.  MRVC focuses on every detail of the research experience to ensure that participants, moderators, and clients have a positive experience.

Our conference style focus suite is bright and refreshing with uplifting colors.  The space can be configured for a variety of needs.   Just explain your goals and we'll make the room work for you.  Each of our rooms has a camera for audio and video tracking, sound equipment, WIFI and other technology upon request. Our client lounges provide a professional work space to spread out, review materials, discuss sessions, and collaborate.  Lighting is adjustable in the client lounges to meet your needs.  We are here to serve you and are happy to fill your needs upon request.